Buy The DVD
The Class Dismissed film is now available on DVD. Check out the three options below. These DVDs are meant for

home use only

. If you plan on showing the film anywhere outside the home, you are legally obligated to purchase the Screener Pack with the appropriate license. A rentable online version is also available, if you aren't ready to buy a full DVD yet.
SINGLE DVD
Own your very own copy of the highly acclaimed Class Dismissed film on DVD. Watch it in the comfort of your home.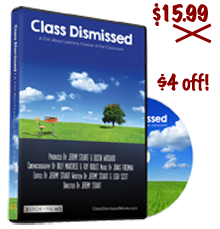 FRIENDS & FAMILY 3-PACK
The most popular option, this 3-pack DVD set is an excellent way to share the film with extended family and friends and saves $10.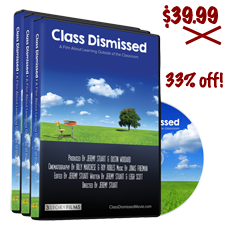 TELL THE WORLD 5-PACK
If you're really ambitious and passionate about the film's message, this is the pack for you. Buy 5 copies at a $15 discount and help us spread the word.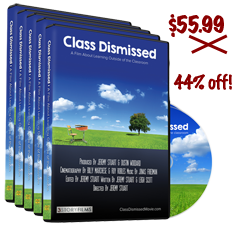 90-minute runtime. Ships USPS Priority Mail for US buyers & first-class for International buyers. The film is NTSC & region 0 (it should play on nearly any DVD player).
What People Are Saying:
"Class Dismissed shows parents a glimpse into the future of education. Everyone concerned with education would benefit by watching this film."
– John Taylor Gatto, Former New York State Teacher of the Year and Author.
"This documentary was absolutely captivating. It was extremely well done. It just really encouraged you to think about what education really means."
- Stacy C.
"Absolutely a must see from a public school teacher now homeschool mom point of view. Two thumbs up!"
- Kim C.
"Class Dismissed is an inspiring account of choices in education~a support for those who are considering a change. Families need to trust their instincts and embrace the freedom and learning to come."
- Jennifer E.
"Class Dismissed reminded us that the hard work we invest into our kids' education has a lifetime of value, and that the continued expansion of educational choices is of utmost importance."
- Malerie B.