DVD Screener Pack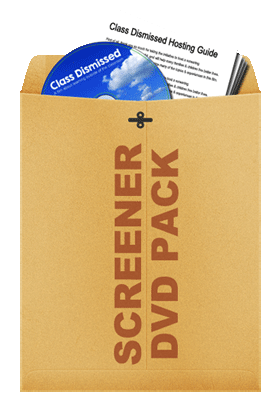 We've created a solution for eager individuals or groups to host smaller screenings in libraries, community centers, theaters, churches, business rooms or even large living rooms. We're excited about this grass-roots way to spread the film across the globe.
To host a screening, you simply need to purchase our DVD screener pack, then find a projector, large TV, or place with equipment to show the movie. It's up to you to decide how many people are invited and how you cover the cost for the screener (some have their group buy it, others have suggested donations, and some just pay for it themselves).
The screening pack comes with:
1) The screener DVD - regular DVDs won't be made available until later in 2015. You get the rights to screen the movie once to your local community and can ask for permission for additional screenings.
2) A pre-screening guide with organization tips, equipment recommendations, marketing suggestions.
3) A post discussion guide to help you have a conversation after the screening.
4) A resource guide for families interested in learning more about the various education methods highlighted in the film. Includes speaker bios plus suggested books and websites for deeper dives.
5) Other resources like downloadable posters, coupons, marketing tips and surveys.
The screener pack license comes in three different options:
1) Basic Screening Pack: $75 plus tax & shipping. This is for those who will host the screening for free and won't charge for admission.
2) Fundraiser Screening Pack: $150 plus tax & shipping. This is for Non-profits who want to use the movie screening event as a way to raise funds for their organization.
3) For Profit Screening Pack: $250 plus tax & shipping. This for people or organizations who plan on charging admission for the community screening.
International orders may take longer to arrive as it is up to your country's customs policies on how long they hold it.

If you'd like to help us host a larger theater screening of the movie, please visit the guide to hosting a screening.